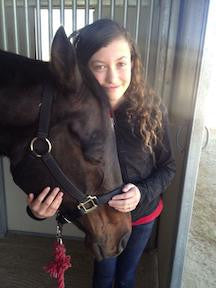 Humphrey is a rescued 18 yo dark bay TB gelding. He was seriously underweight when his new owner found him and brought him home. He was put on a carefully monitored nutrition plan to improve his weight and physical condition and was successfully re-shod with nailed-on HOOF-it Natural Flex plastic horseshoes for additional heel and hoof support. Humphrey was thin but going sound under saddle at all three gaits.
April, 17, 2013
During the second shoeing attempt, Humphrey had grown out enough hoof to fully manifest thin weak hoof walls from previous lack of care and nutritional deficiencies. He went totally lame from a farrier's and horse owner's worst nightmare – hot nails (hitting him in the quick).


May – July, 2013
Humphrey's lameness and poor hoof condition required stall rest and hand walking with limited turnout. His feet were trimmed periodically to re-balance his long toes. Natural Flex plastic horse shoes were applied with Hoof Glue after it was determined he had no abscess problems. His overall condition continued to improve and energy levels during turnout made it difficult to keep the shoes on him for a full 4-5 weeks with this method.
August 7, 2013
Care was taken not to bring Humphrey's long toe back too quickly. At this point, although his toe was still too long, his hoof balance was steadily improving. Natural Flex plastic horse shoes were again shaped to fit him, leaving room for hoof expansion. The hoof wall was still weak and missing in some areas, so nails were not an option yet. The shoes were applied again with Hoof Glue. After the glue set, Wrap-n-Ride was applied to hold the shoes securely in place. The goal for adding the Wrap-n-Ride, was to increase the possibility that the glued on shoes would stay on Humphrey as his energy and activity level increased. He needed fragile hoof wall protection and prevention of further hoof damage as the healthier hoof growth progressed.
August 21, 2013 – 2 weeks after application
The shoes are securely in place with slight wear of the Wrap-n-Ride at the toe.
August 28, 2013 – 3 weeks after application
Humphrey is enjoying longer turnouts now.
The shoes are securely in place with more Wrap-n-Ride wear in the toe region.
September 4, 2013 – 4 week follow up
Wrap-n-Ride and the shoes were removed, and Humphrey's hooves were trimmed to balance. He's showing solid healthy hoof growth and improvement in the hoof wall. There was a small trace of thrush, so we treated him with the Hoof Maintenance Kit and reshod him with Natural Flex shoes, HoofGlue and Wrap-n-Ride.
November 3, 2013
After 53 days, the September shoeing treatment with Wrap-n-Ride was removed and Humphrey is now barefoot, going sound again at all three gaits under saddle.